We have developed the software to deliver the superior efficiency and performance with Hydranautics products. Please download the software from the links below to enjoy our value added services.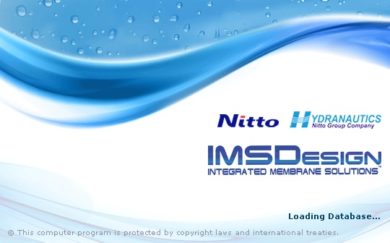 IMSDesign
IMSDesign(Integrated Membrane Solutions Design) is the latest version of Hydranautics membrane projection software. It is an advanced sizing tool meeting the most demanding needs of membrane professionals. In the latest IMSDesign software, sophistication meets Simplicity. This program is an advanced and powerful tool developed using Microsoft's .NET Technology. It offers enhanced program features, improved graphics and includes new features, which enhance the user's ability to quickly and accurately design and analyze membrane-based systems. IMSDesign gives users complete control over the information used in the membrane selection process. This control assures the user full confidence in the projected performance of any Hydranautics membrane.
Please feel free to contact us on imsd-support@hydranauticsprojections.net, if you require any further information.
---
HYDRAcap MAX web simulator
HYDRAcap MAX ultra-filtration membrane simulator is Hydranautics' first web based program that is being used by hundreds of customers worldwide. It is extremely user friendly. Entering just a few inputs, the simulator works out all the parameters of the HYDRAcap MAX system. It also allows the user to easily modify the designs to suit requirements. It produces a compact graphical process overview. More detailed design can also be obtained. The best feature is the simulator works out process sequence diagram for the design that saves many hours of work of a process engineer.
Contact Hydranautics at support-mf@hydranauticsprojections.net for access.
---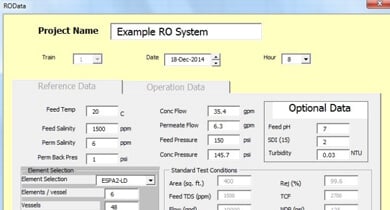 RODataXL
Tracking your RO system performance
Specifically designed to take full advantage of Microsoft Excel*, ROdataXL is a powerful RO normalization program. The program allows users to easily input reference and operational data. Graphs of operational and normalized parameters automatically updated with each input. Use the power of Microsoft Excel to perform more in-depth analysis or customize the program to meet specific user needs and preferences. To assure the highest standards of data integrity, this normalization program is in compliance with ASTM Standard D 4516-85, "Standard Practice for Standardizing Reverse Osmosis Performance Data."
Please feel free to contact us on support-rodataxl@hydranauticsprojections.net, if you require any further information.
*Microsoft Excel is a registered trademark of Microsoft Corporation. Click the following link to download this software.
Disclaimer
Product performance calculations are based on nominal element performance when the product is operated on a feed water of acceptable quality to Hydranautics. The results shown on the printouts produced by this program are estimates of product performance for preliminary business planning purposes only and third parties should not rely on the results as facts. Calculations for chemical consumption are provided for convenience and are based on various assumptions concerning water quality and composition. As the actual amount of chemical needed for pH adjustment is feedwater dependent and not membrane dependent, Hydranautics does not warrant chemical consumption.
HYDRANAUTICS DISCLAIMS ALL WARRANTIES, EXPRESS OR IMPLIED, INCLUDING WITHOUT LIMITATION, WARRANTIES OF ACCURACY, MERCHANTABILITY AND FITNESS FOR A PARTICULAR PURPOSE, AND ANY AND ALL SUCH OTHER WARRANTIES ARE HEREBY DISCLAIMED AND EXCLUDED. IN NO EVENT WILL HYDRANAUTICS BE LIABLE FOR ANY DAMAGES, INCLUDING CONSEQUENTIAL, INCIDENTAL, OR SPECIAL DAMAGES WHICH ARISE IN CONNECTION WITH THE CONTENT OR YOUR USE OF THIS WEBSITE.
If a product or system warranty is required, please contact your Hydranautics representative. Non-standard or extended warranties may result in different pricing than previously quoted.